Three ESL Videos for Tutors
The ESL videos on this page were made by me a few years ago when I launched my 120+ page book 10 Steps to a Successful ESL Tutoring Business. Since then, this series has been buried in the bowels of my website.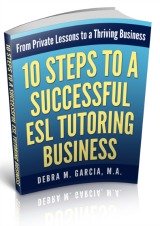 But because I often receive emails from ESL tutors/teachers and potential teachers asking many of the questions that I've addressed in these ESL videos, I've decided to revive them and post them all here on this one page.
One of the most frequent questions I get is, in short, how do I know what to teach my English Language Learners? Where do I start? If this is also your burning question, then skip down to #2 - How to Do an ESL Needs Assessment. 
If you already have a private ESL tutoring business, but you have challenges with students cancelling their appointments with you (thereby affecting your bottom line!), skip down to #3 - ESL Tutoring Contract. This is THE best way to make sure your time is valued, and it serves your students as well.
And if you want to learn how to ensure that you're hired when you meet a potential student (client) for the first time, start here with #1 - How to Conduct a First Meeting with a Prospective ESL/EFL Student.
ESL Video #1 - How to Conduct a First Meeting with a Prospective ESL/EFL Student
If you're a tutor, especially a private tutor running your own business, then you need to see this video. In it, I tell you step-by-step what to do, what to bring, and what to say in your first meeting with a prospective student so that he or she will absolutely want to work with you.
Of course, you should also use this meeting to decide if YOU want to work with the student. (I also share how to say "no" to a student, should you decide you don't want to work with him or her, in a way that preserves the relationship.
ESL Video #2 - How to Do an ESL Needs Assessment
More step-by-step instructions for ESOL tutors. When you follow the suggestions I lay out here, you'll find out exactly what your student/client wants to learn and how to go about delivering your lessons in a way that makes you stand out from other tutors.
ESL Video #3 - ESL Tutoring Contract
Cancellations and no-shows are the bane of a self-employed tutor's financial existence! In this video, I show you how to use a contract that will not only reduce cancellations and no-shows, but also demonstrate to your prospective students your professionalism (which allows you to charge more than others in your geographic area).
I also show you how to present the contract and explain it to your limited English-speaking clients.
Recap
As previously mentioned, the above vids were used by me to launch my "10 Steps" book, so there are some dated references toward the end of each recording; just ignore them.
And if you're interested in seeing my book and learning a lot more about running your own tutoring business, just click on the book cover below.
Click the image to learn more about "10 Steps to a Successful ESL Tutoring Business"
If you have any feedback or comments or questions, please feel free to contact me. 
Happy teaching!
Debra